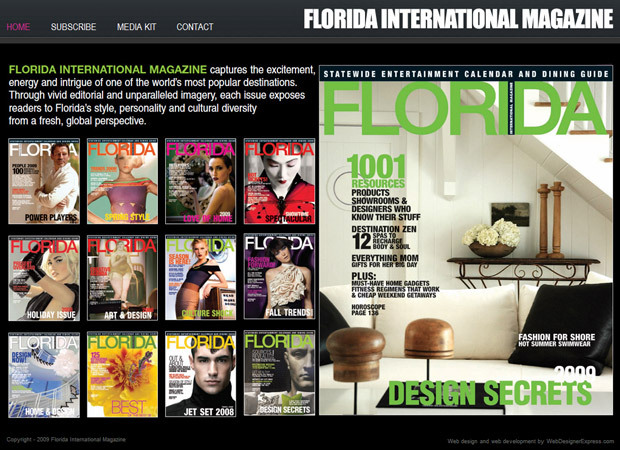 Project Description
Florida International Magazine is one of the most popular and well known fashion editorials in South Florida, full of imagery and excitement content to bring to the readers a different look of what South Florida has become.
The biggest request from this client was the creation of a real online magazine, a publication that visitors can virtually flip the current month magazine pages, zoom, print and download in a PDF format.
The development of these features was all done in flash using a very advanced action script and xml mixed together with other components to accomplish a complete and natural treatment on the pages. The site also includes a back-end administration platform to manage and customize every aspect of the website.
If you need the creation of something similar contact us, we are ready to assist you with any web design idea you can have. Call us at 305.386.9003.

Search our website

Articles

Applied Technologies

XHTML

DHTML

CSS

XML

PHP

JavaScript

AJAX

DOM

Flash

ActionScript

Python

Visual Basic

Java

C

MySQL
Applied Web Development Services
Applied Online Marketing Services