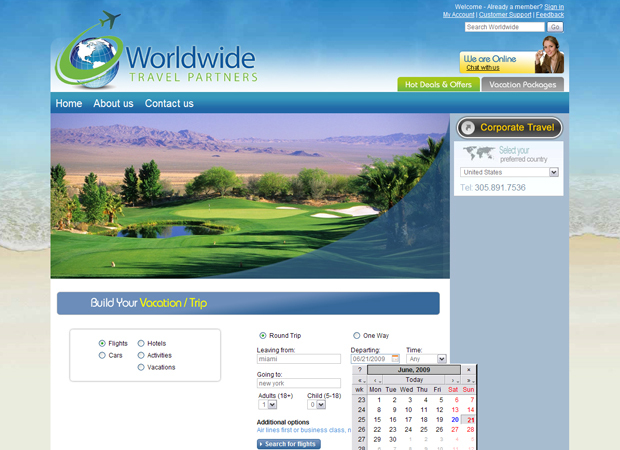 Project Description
Online Tourism is not a new thing, but an online system that support and manage hotels, air lines, car rentals, cruisers, packages, services, sales agents, online orders, profits percentages, locations, company departments, currencies, clients, suppliers, and more is something not too many tour agencies have.
Our goal was creating a system to allow our client and staff to manage and control any aspect of the website and at same the time accounting and sales are completely handled by the system. We are actually proud of the label ofaccuracy and flexibility we was able to reach on this project.
The development has applied the latest available technologies and programming functionalities, in both client and server side, to reach this label.
If you are looking for a system like this one or you are simply curious about the things we can do for your site lease contact us, we are looking forward to it. Call us at 305.386.9003

Search our website

Articles

Applied Technologies

XHTML

DHTML

CSS

XML

PHP

JavaScript

AJAX

Flash

ActionScript

Python

Ruby on Rails

Visual Basic

Java

Cold Fusion

C

Perl

SSL

MySQL

ORACLE
Applied Web Development Services
Applied Online Marketing Services