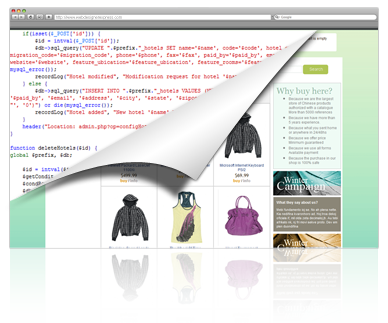 High-End Web Development
People often misunderstand the differences between web development and web design; these are two completely different things. Web development is in charge of the structure of the website, this is the behind the scenes operations, it is where all the codes and applications are made so our client's websites work correctly. There are many parts included in our web development services. Check them listed below.
Backend Administration Platform Development

Most websites are static, it means there is no easy way to keep the website updated, unless you have great knowledge on coding and willing to take the risk and make it yourself. This is where a back-end platform comes in. This gives you complete freedom without needing the help or assistant of a professional web development to make any change and update to your site whenever you need it, if you know how to send and e-mail you will be able to maintein and update your website, that is our guaranty.

Online application development

Dynamism, that is the key on the today's online business, and as anybody can see, that is the future of Internet. If you want to take your business to internet, or you want to create your unique business online this is what you are looking for. Things like dynamic online services, dating sites, billins systems, shopping carts, ecommerce solutions, social networks, video storage, and more different types of applications are our every day work. We are confidents we can create great things for you.

E-commerce development

We can say that an e-commerce website is a system which allows people to buy and sell items/services online. Most online stores need a shopping cart to check out, billing, shipping and orders processing. On internet the trick is not only sell for less, also, the way the information is collected can make the different between buying from your store or from your competition. We can create the best state-of-the-art ecommerce online store for you and the most user-friendly shopping cart you can find online for a very fear price, give us a call, we will impress you.

Payment Gateway Integration

Our

certified developers team

have all the needed experience to integrate any website or

online application

with any

Payment Gateway

you need. Payment Gateways are the online connection between your merchant account and your website and their function is allow you to

collect payments online using credit card or checks

directly on your online store. Give us a call today and check our very competitive prices, we can make your online business as prosper as you need.

Database development

Most clients get confused with this terminology. Database Development is and online system that lets you update, change, and add content to the the website dynamically. It can keep a huge amount of information and it is easy to maintain and interact with the front-end of the site.



Web development
is a must if you plan to have an interactive website where you may change, add, delete and correct things as you go. It is also a must if integration is needed on things such as online forms, applications and purchases. Our professional
web developers
have
the experience
needed to help you with any web development need.
Please give us a call and speak to a professional web developer today. Call us at 305.386.9003